This Week at Chabad of South Bay

Friday, Jun. 26

7:50 pm

Shabbat, Jun. 27

8:52 pm

 
TONIGHT - 7:00 PM
Transform and Transcend
An evening of inspiration, introspection and appreciation marking the Yartzeit of the Rebbe.
The Rebbe's vision of a perfect tomorrow starting with a personal transformation today.
Featuring: Senator Joseph Lieberman, Rabbi YY Jacobson,
DIRECT ZOOM
LINK: ChabadSb.org/Zoom
Facebook.com/Sholom.Pinson
No Charge -  Program Sponsorship $180 - CLICK HERE To Donate 
 

 

Message from the Rabbi

 

 

Dear Friends,

Today, June 25, corresponding to Gimmel Tammuz in the Hebrew calendar, is the yartzeit of Rabbi Menachem Mendel Schneerson, the Lubavitcher Rebbe or simply the Rebbe.

Thousands of Jewish people world over visit the Lubavitcher Rebbe's final resting place located at the old Montefiore Long Island cemetery to honor his memory and to pray at his gravesite.  

It has been said that prayers recited at a Tzaddik (a holy person) grave never go unanswered. 

 

The founders of religions have always agreed on one important fact. We all come from one Father, Noah, and we are all considered the children of Noah. We therefore have some intrinsic similarities. However, there are different ways to accomplish our tasks here in this world as one big family. Unfortunately, many nations consisting of different races, colors and religions have caused strife and bloodshed all in the name of G-d.

 

Something has to be done to change the strifes caused by the religions.

Wouldn't it be great if we could find a religious leader interested in helping the world without upsetting other religious leaders; some great personality granting and giving each religion it's rightful respect not imposing any changes or restrictions? 

Can there be such a religious leader?  

Has there ever been such a leader in the past generation? A spiritual person with altruistic qualities and love for all mankind is a rare occurrence. And if indeed, there is such a leader, can we recognize him and give him the honor?  

Such a leader was found. He is the world famous Chassidic Rabbi who passed awaytwenty six years ago. The rabbi is known affectionately as the Lubavitcher Rebbe, Rabbi Menachem Mendel Schneerson.  In the past the Rebbe was awarded the Congressional Gold Medal, the highest civilian honor!

 

When reviewing the outstanding qualities made by the Lubavitcher Rebbe, we find a single most important highlight that marks him from all other religious leaders, his reaching out to all religions, all cultures, and all people at all times. 

The Rebbe searched for an intrinsic human quality that binds all mankind. The Rebbe found it by reviewing the roots of all mankind. We are the children of Noah and yes, the children of Noah have a commonality that supersedes all creeds, races and religions. The concept of being children of Noah leads to a family message:

 

If we are truly one family, we must be compassionate to mankind. We must care about sharing our world with our fellow family members! Together we can work on making this world a safe and wonderful place to live in.

 

Family members look for similarities, and not differences between siblings. They work together building a healthy present, securing a peaceful optimistic future and have a proud past. 

No leader in the world has worked this hard in reaching millions of people with the message to embrace these seven Noahide's laws. 

The Rebbe cut through religions, races and nations, not differentiating between those governments aligned with the West or the East. His message was so universal to all, to recognized the need for the observance of the seven Noah laws.

 

Today's generation needs religion, spiritual feelings and consciousness. We must inspire the world by reaching out to our brothers and sisters and share the wonderful Torah, our Jewish heritage. We can and must reach out to people by sharing the Seven Noachidic Laws. Help our country to be a model of kindness in a peaceful  manner. 

Today there are over three thousand five hundred Lubavitch centers spanning the globe continuing the work started by the Rebbe.  Thousands of young and older rabbis carry out the work in bringing Godliness and goodness to the entire world. 

The opportunity is still there both for Jews and and non Jews. There is no monopoly on doing G-d's will in which we must act with zealous spirit.  

 

May the memory of the the Holy Rebbe be an empowering factor for carrying out the mission. Please join us on Zoom tonight for a special evening of inspiration in honor of the Rebbe (see above)

 

If you wish you can email me your name and your mother's name and have your name prayed for at the Rebbe's resting place.

 

 

Rabbi Eli Hecht 
Regional Director 

***********************************************************************

Join us for a 15 Minute
PRE-SHABBOS INSPIRATION & LCHAIM 
Friday, June 26| 7:00 PM

Virtual Kiddush Sponsorship

Behbood and Lida Nikayin in memory of Lida's sister Diyana (Diyana bas Babajan Yosef Moradian Reuveini) on conclusion of Shloshim.

Facebook: facebook.com/sholom.pinson

 
*  *  *  *  *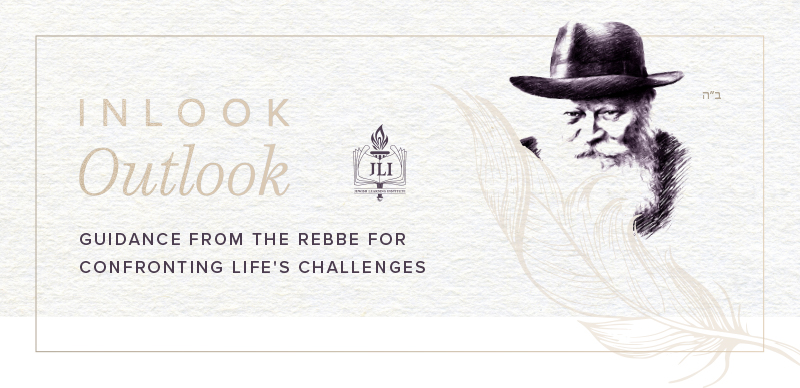 Inlook Outlook
Guidance from the Rebbe for confronting life's challenges
How you think about any situation determines how you feel about it. This mini series presents a fascinating glimpse into three handpicked, private correspondences with the Lubavitcher Rebbe, Rabbi Menachem Mendel Schneerson—letters that open the mind's eye to rare psychological insights and new ways of thinking about life's challenges.
By reflecting on practical advice penned to individuals during critical life-junctures, this series provides perspectives on life that begin from the inside out, starting from the soul and one's destiny on earth, to help you peer through the Rebbe's eyes and find opportunity where others see adversity.
Sundays, 9:30 -10:15 AM 
June 28, July 5
LOCATION 
MORE INFO
310.634.4516
$18 Suggested Donation
CLICK HERE To Register 
Can we change reality?
What is real? There are, in fact, multiple layers to what we experience as reality. There is an external reality—objective "facts on the ground" over which we have little or no control. There is an internal reality—our own personality traits and abilities. Finally, there are our perceptions—the ways that we process what is happening to us.
In 1956, a person wrote to the Rebbe about their personal struggles. In his response, the Rebbe shares his insights into the nature of the different "realities" that we experience, and offers some concrete suggestions on how to respond when we feel overwhelmed by the challenges we face, both from without and within.
Use your inner yardstick
Who hasn't been plagued by feelings of inadequacy? We are constantly haunted by a fear of failing to "measure up" in some way—to the accomplishments and successes of others, to their real or perceived expectations from us, and to our own expectations and ambitions. In a letter written to a struggling teenager, the Rebbe offers guidance on how to more accurately and productively access our task in life, and the progress we are making toward its achievement.
CLICK HERE for Inlook Outlook JLI Class #1
CLICK HERE for Torah Studies Class
*  *  *  *  *
June 29 - July 24 ~ Camp Gan Israel
 
      Weekly Schedule

Sunday

 

9:30 - 10:00 am - Inlook Outlook: Guidance from the Rebbe for confronting life's challenges.

 

Monday

9:00 - 10:00 am - Kollel Levi Yitzchok Senior Class with Rabbi Hecht

Thursday

7:00 - 8:00 pm - Torah Studies with Rabbi Sholom Pinson

Friday

7:00 pm - Pre-Shabbos inspiration & Lchaim with Rabbi Hecht

*  *  *  *  *  *

| | |
| --- | --- |
| | Services Schedule at Chabad |

CLICK HERE for important COVID-19 Synagogue update

Shabbat Services:
Friday night: 7:30 pm
Shabbat morning: 9:30 am (OUT DOORS)
Mincha: 7:45pm

MUST RSVP TO 310.634.4516 or rabbisp@gmail.com prior to Shabbos if you would like to attend

Weekday Services: 
Sunday: 8:45 am - Shachris
Monday-Friday: 7:15 am - Shachris 
 

This Week We Remember

Shirly Novom (Sora bas Yosef) - 3 Tammuz

Jack Averick - 4 Tammuz

Sara Singer (Sora Esther bas Yitzchok) - 6 Tammuz

David Azoulay (Dovid ben Habib) - 7 Tammuz 

Ida Brown - 10 Tammuz 

Gary Kreiger (Gerson Feivel ben Laibel) - 10 Tammuz
 

Donate

Join in and become a partner in the work we do!
 

Parshah in a Nutshell




Parshat Korach

Korach incites a mutiny challenging Moses' leadership and the granting of the kehunah ( priesthood) to Aaron. He is accompanied by Moses' inveterate foes, Dathan and Abiram. Joining them are 250 distinguished members of the community, who offer the sacrosanct ketoret (incense) to prove their worthiness for the priesthood. The earth opens up and swallows the mutineers, and a fire consumes the ketoret-offerers.

A subsequent plague is stopped by Aaron's offering of ketoret. Aaron's staff miraculously blossoms and brings forth almonds, to prove that his designation as high priest is divinely ordained.

G‑d commands that a terumah ("uplifting") from each crop of grain, wine and oil, as well as all firstborn sheep and cattle, and other specified gifts, be given to the kohanim (priests).

 

 
 

Today's Quote

And these words, which I command you this day, shall be upon your heart... You shall bind them as a sign upon your arm, and they shall be a tefillin between you eyes

— Deuteronomy 6:6-8



 

Chabad World News

 
 

Obituary


Rabbi Norman Lamm and the Spirit of Chassidism
An appreciation that reflects on Lamm's personal reception of Chassidism's living heritage, the place of Chassidism in his scholarly work, his engagement with Chassidism in the fashioning of his famous derashot (sermons), and on Chassidism as his preferred model for developing the relationship between Torah and worldly knowledge.
---